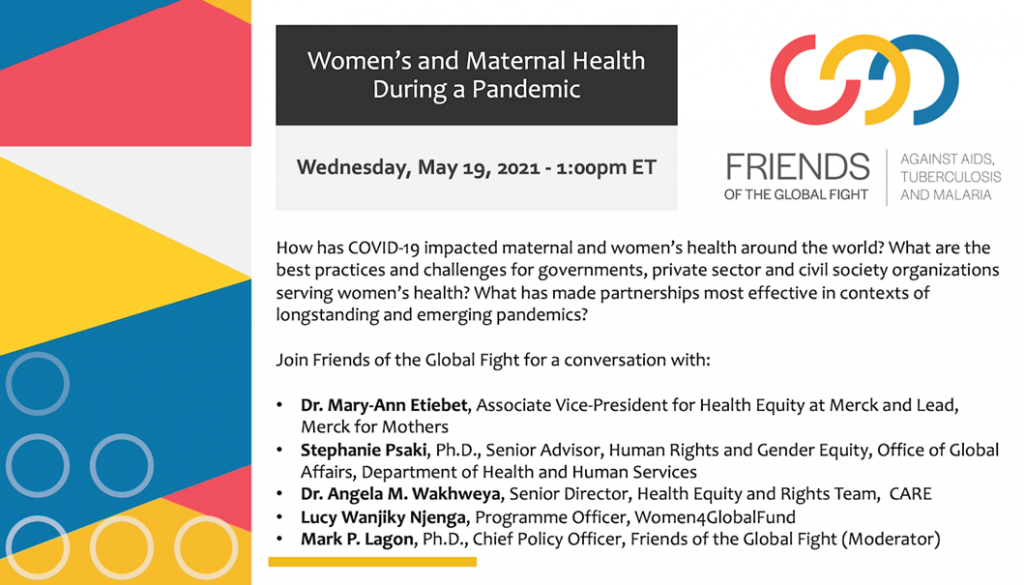 Join this web event on Wednesday, May 19, 1:00pm ET (7pm CAT) hosted by Friends of the Global Fight Against AIDS, Tuberculosis and Malaria on "Women's and Maternal Health During a Pandemic."  The session will look at:
How COVID-19 has impacted maternal and women's health around the world – as part of a "shadow pandemic" with disproportionate effect on women.
Best practices and challenges for governments, private sector and civil society organizations serving  women's health.
What makes partnerships on women's health most effective in contexts of longstanding pandemics (like AIDS, TB and malaria) and emerging pandemics (COVID-19 and ones to come)
You can sign up by clicking here.
After a welcome by President and CEO of Friends, Chris Collins, panelists include leading voices from different sectors
Dr. Mary-Ann Etiebet, Associate Vice-President for Health Equity at Merck and Lead, Merck for Mothers
Stephanie Psaki, Ph.D., Senior Advisor, Human Rights and Gender Equity, Office of Global Affairs, Department of Health and Human Services
Dr. Angela M. Wakhweya, Senior Director, Health Equity and Rights Team, CARE
Lucy Wanjiku Njenga, Programme Officer, Women4GlobalFund
Mark P. Lagon, Ph.D., Chief Policy Officer, Friends of the Global Fight (Moderator)
Please join the conversation by RSVPing here.