WOMEN4GLOBALFUND ACCOUNTABILITY
Enabling WOMEN TO TRACK GLOBAL FUND INVESTMENTS TOWARDS GENDER EQUALITY ACROSS HIV, TUBERCULOSIS & MALARIA
This community-led monitoring (CBM) and feedback Accountability Toolkit, supports W4GF Advocates and partners to ensure accountability and critique of Global Fund investments. This work supports women in implementing countries to effectively influence national processes by tracking Global Fund supported programmes and services to inform stronger programming for women and adolescent girls and young women. This Toolkit will support women in all their diversity to:
Review their own engagement in Global Fund processes.
Assess their effectiveness as advocates to influence national processes.
Ensure countries move towards achieving gender equality and upholding human rights.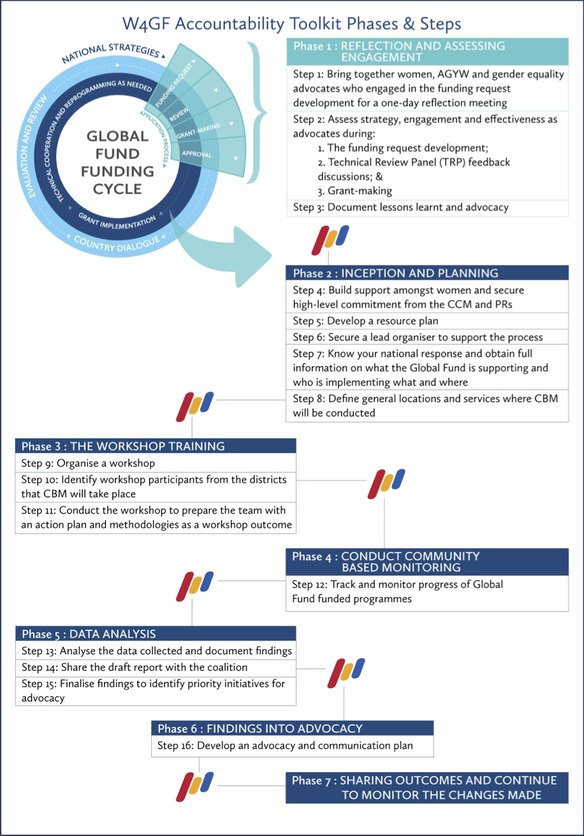 Menu
Accountability Toolkit
Cameroon (focus country)
India (focus country)
Tanzania (focus country)
Other CBM and CLM Resources
It is essential that women from diverse communities and constituencies are empowered to provide effective oversight of programmes and the quality of care that are supported by the Global Fund, in a transparent and systematic manner.
The W4GF Toolkit provides that knowledge and support.
Accountability Toolkit
This toolkit enables W4GF Advocates to conduct CBMF of Global Fund supported programme implementation. This will help to ensure that programmes and services are fit for purpose, responsive to the actual needs and realities of women and girls in all their diversity affected by HIV, TB and Malaria.
Whilst W4GF and its Advocates have made tremendous gains in ensuring that gender equality and human rights are a top-line strategic key objective of the Global Fund – it is also imperative that W4GF Advocates maintain larger perspective of how the Global Fund fits into the 'big picture' funding landscape.
As women in implementing countries improve and amplify their advocacy it is important to critically assess and understand the overall landscape of what is being funded, where and by whom and where gaps remain.
The W4GF Accountability Toolkit includes seven (7) phases with sixteen (16) steps that cover key areas where women can strengthen their own strategy and effectiveness and engage in CBMF. All of the steps are further supported by Annexes A-O that expand on the key concepts that are essential in the Accountability Toolkit.
To review the entire Toolkit click here.
For more information about using this Toolkit please contact W4GF via our website.