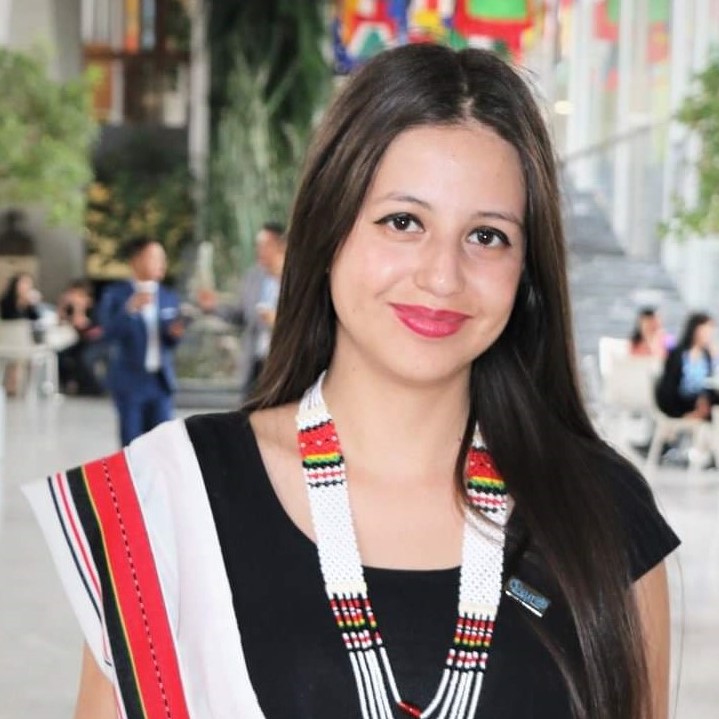 Ángela León Cáceres
W4GF Global Coordinator
For the past decade, Ángela has worked with community groups and NGOs as well as government, academia and the United Nations, performing in highly complex emergency contexts and in low- and middle-income countries, dedicating efforts to promote and demand the right to health, predominantly for vulnerable populations.
Ángela is a feminist, sensitive and empathic health advocate, guided by the principles of humanity, active listening, and sharing; committed to overcome stigma, discrimination, racism, and structural inequalities. A multilingual internationalist professional, health researcher, and passionate activist; with a specialization in global public health and social development. Originally from Ecuador, Ángela holds a Master's degree in international health from the University of Heidelberg in Germany and is certified on primary and community health from the Charité Medical University-Berlin. She has dedicated the past years to develop strategies and lead projects to improve and strengthen capacities, foster gender equality, generate scientific evidence for decision making, and being a proactive young facilitator of multi-sectoral collective processes; capable of projecting plans to position human rights, underpinning the importance of public
health for community development.
Ángela has extensive experience in international cooperation and development of public and global policies in relation to HIV, sexual and reproductive health, gender and human rights and has worked in pandemic management, and zoonotic and infectious diseases control. She has participated in key Global Fund spaces such as the Country Coordinating Mechanism and in the UNAIDS Programme Coordinating Board. Ángela has a solid understanding of how the Global Fund works and some of the areas that require attention around gender and women in all of their diversity.
Ángela's research work is based on the complementarity of methods and some of her contributions have been published in recognized journals. One of her main goals is to link the global scenario with the grassroots' level to achieve sustainable development through health.
Ángela lives in Ecuador with her dog, Noah.
---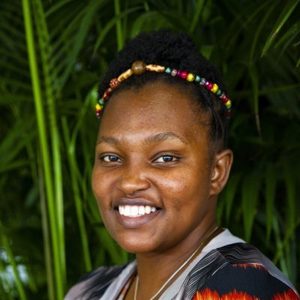 LUCY WANJIKU NJENGA
W4GF Movement Building Officer
Lucy Wanjiku Njenga is a young woman leader who is visionary and passionate about young women and girls.
Diagnosed in 2012 with HIV and right after losing her son to HIV related complications, she committed to ensuring no other girl had to go through the same.
This was achieved by her initiative of being a peer mentor and a trainer of trainers of a Behaviour Change Curriculum in HOPE project where she reached more than 2000 students.
She founded Sauti Skika, the first network of adolescent and young people living with HIV in Kenya in 2015 that has become a platform that gives adolescent and young people a voice. Lucy is the Founder and Executive Coordinator of Positive Young Women Voices.
She served as the African Delegate in the NGO Delegation to PCB of UNAIDS in 2018 -2020 and the is Alternate Board member in the Kenya Country Coordinating Mechanism to the Global Fund. She has hands-on experience in the previous funding request submitted to the Global Fund and advocated to have a seat for adolescent and young people in the KCM, Kenya being a first to have such a seat.
Lucy lives in Nairobi with her partner and their five year old daughter.
---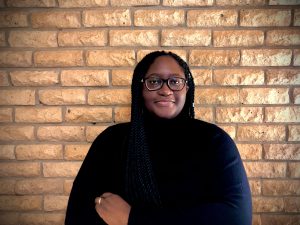 NDOLO MIRANDA EKEMA
W4GF Programme Officer
Ndolo holds a Bachelor's of Science Degree in Nursing and is currently pursuing a Postgraduate diploma in Public Health at the University of Pretoria. Ndolo lives with her husband and their son in Cape Town.
Ndolo is a young activist and believes that community-centered movements can change the world. Ndolo is interested in health systems, services and policies and has worked in HIV prevention and care in Cameroon. Ndolo is a passionate feminist and advocates for the rights of adolescent girls and young women to enjoy access to HIV services and their sexual and reproductive health and rights.
In 2016 her community was affected by a socio-political crisis with women and young people being impacted by violence. This led to Ndolo's engagement in education in emergencies. She led conversations with the UNICEF High Level Panel around education in emergencies, youth migration and displacement and has campaigned for funding for education in regions that have been most impacted.
Ndolo is a member of the #GenEndIt Steering Group with Restless Development and STOPAIDS. She is also a member of the Global Fund Community Rights and Gender Advisory Group and a member of the Global Fund Advocates Network (GFAN) Speakers Bureau. She has previously served as the HER Voice Fund Ambassador for Cameroon with her work cutting across HIV, TB and malaria.