The Accountability International Leadership Award (AILA) will be presented to persons or organisations who play an exceptional role in promoting accountability in the international response to human rights and inclusive sustainable development.
To find out more about this click here and nominate your accountability hero here before 9 October 2021
The award will recognise people and organisations who work on accountability, and who work in an accountable manner. Accountability International are looking for true accountability ambassadors who work on increasing accountability and who embody accountability themselves.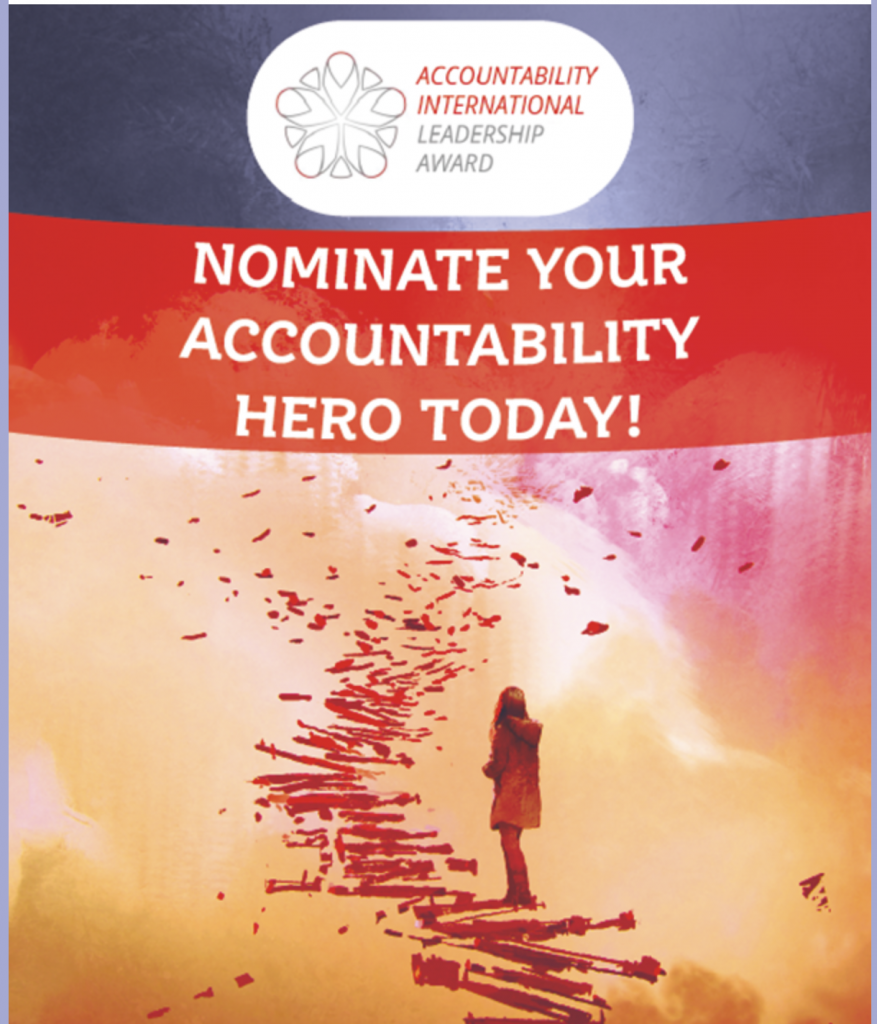 Selection Criteria
Nominations will be reviewed for the quality and impact of the candidate's service contributions.
Successful nominations will demonstrate a sustained and/or enduring contribution to accountability in the field of human rights and inclusive sustainable development.
Nominations can focus on an important body of service contributions over a significant period of time, or one particularly influential contribution.
The award generally is given to an individual, or organisation that have made exceptional contribution in line with the Award objectives.
No one person or organisation may win the award more than once.
Self-nominations: The Accountability International Leadership Award is a peer-recognized award, and therefore, self-nomination is not permitted.
Current members of the Accountability International staff and board, as well as the selection committee cannot nominate or be nominated for the Accountability International Leadership Award.
Posthumous awards: Nominations of known deceased persons shall not receive consideration.
Nominations will include comprehensive questions and a short scorecard. In the scorecard, candidates will be scored on the basis of a grading system, using Accountability International's scorecard methodology.
The AILA recognises two categories
General Leadership (This category of the award will be awarded to any individual or organisation that best fulfils the criteria set out in the award criteria.)
Youth Leadership (Accountability International aims to popularise accountability amongst youth and mentor accountable leadership in young people, so, an additional youth category has been created. The Accountability Award is of an international nature, so we have used the UN definition of youth which is 15 to 24 Years (inclusive).If you have chosen the Youth Leadership category, please indicate the age of the nominee