The Global Network of People Living with HIV (GNP+), the International Community of Women living with HIV (ICW), UNAIDS and John Hopkins University are initiating a virtual learning space for people living with HIV to build a movement towards a world free from HIV-related stigma and discrimination.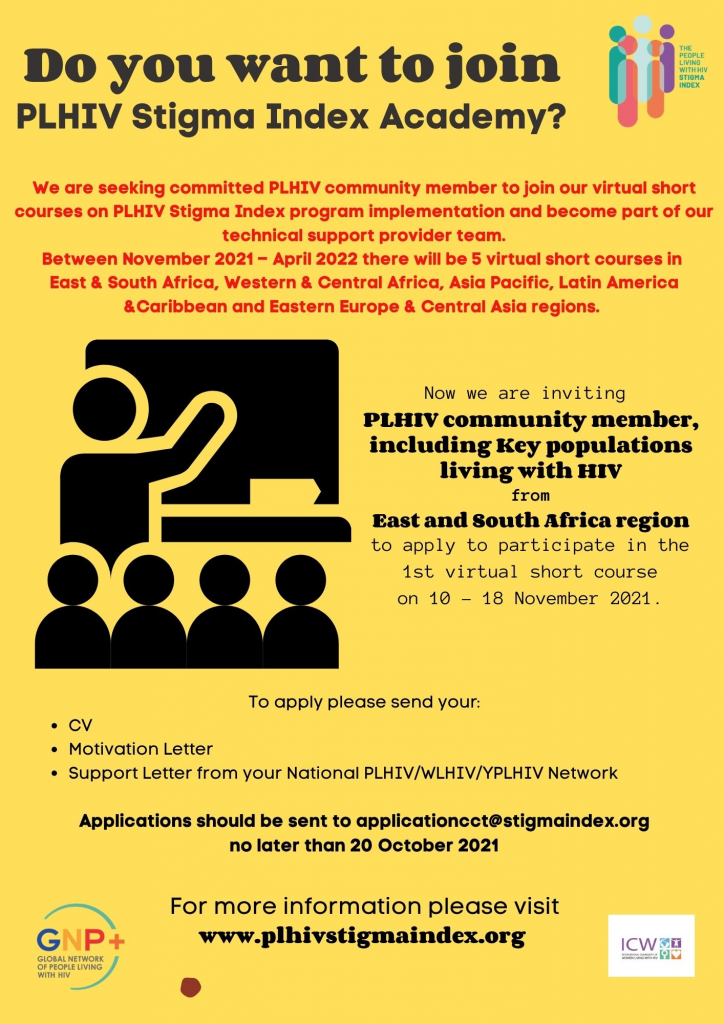 The academy is recruiting diverse community members who are people living with HIV to join the regional virtual short courses, taking place between November 2021 to April 2022, starting with the East & Southern Africa region. See the detailed instructions on how to apply. 
REPOSTING from GNP+ Website: Frequently Asked Questions: What does the schedule for the short course look like?
The virtual course will take place over 2 consecutive weeks: 3 days per week, 3 hours per day. The first course, for PLHIV community from East & Southern Africa, will take place on November 10, 11, 12, and 16, 17, 18. Is there any support for the participants?
We will be providing participants with stipends to support internet data and refreshments during the course. When will the courses for the other regions take place?
All courses will be completed by April 2022. Specific dates for these courses have yet to be set. Please keep an eye on our website for the announcements. What's the benefit of participating in this course?
All participants who successfully completed the short course will be awarded a certificate and become part of the technical support provider team for the PLHIV Stigma Index implementations in their respective regions. Which countries are included in the first short course?
The first short course will focus on the East and Southern Africa region. PLHIV community from other anglophone African countries are encouraged to participate in this training as well.
Please direct all applications to applicationcct@stigmaindex.org
If you have any other questions, please feel free to reach out to plhivstigmaindex@gnpplus.net