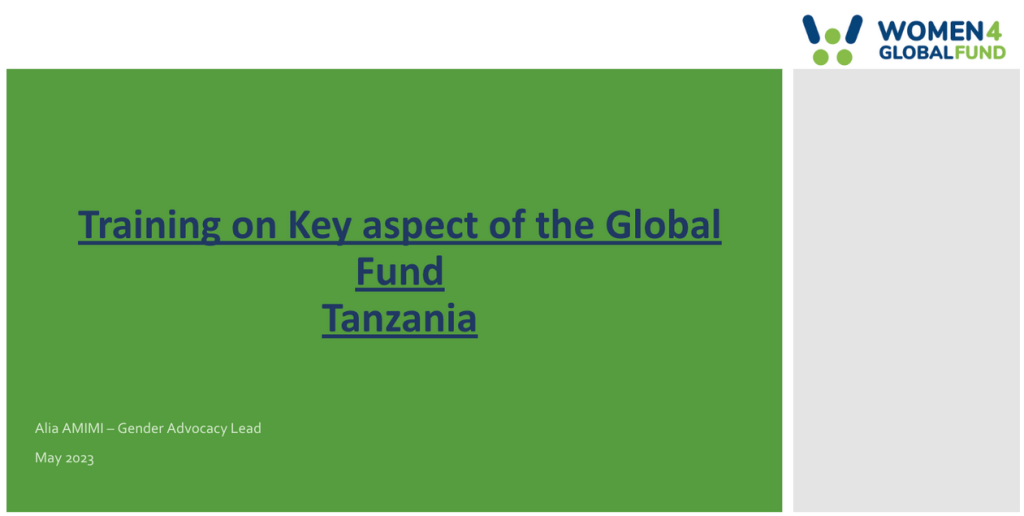 W4GF aims to make accessible and understandable the current Global Fund Strategy (2023-2028), with a particular focus on disseminating the importance of the catalytic investments for faster progress in reducing new infections, addressing structural barriers to improved HIV, tuberculosis and malaria outcomes and building equity, sustainability and lasting impact.
On May 29th, we held a virtual training with the objective of the mentorship to provide participants with an in-depth understanding of the Global Fund's key aspects and allocation process, with a specific focus on addressing the needs of women and young girls in Tanzania. The mentorship aimed to empower participants to become stronger advocates and influencers in achieving gender equity and human rights through Global Fund-supported programs. By enhancing their knowledge of funding mechanisms, priorities, and strategies, participants would be better equipped to navigate Global Fund processes and policies and effectively advocate for resources to address the specific needs of women and young girls.
We addressed the following points:

1. Role and Objectives of the Global Fund
2. Global Fund Funding Mechanisms
3. Key Components of a Global Fund-Funded Program regarding human Rights and Gender approach
4. Collaboration and Experience Sharing
5. Promoting Community Capacity Building
 
Stay tuned to our social media and subscribe to our newsletter to access tools for advocacy and information dissemination.