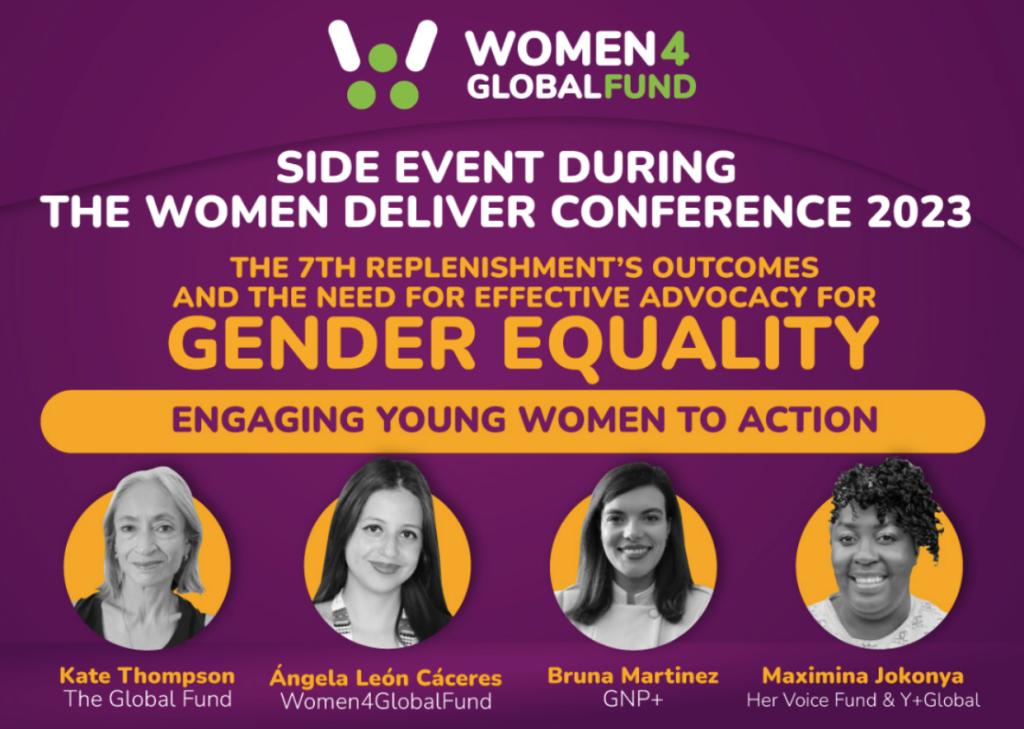 We're thrilled to share that W4GF had a significant presence at the Women Deliver Conference 2023, held in Kigali-Rwanda. Our participation was dedicated to shedding light on the myriad challenges women and girls encounter when accessing comprehensive HIV, TB and Malaria services and highlighting the importance of gender-transformative policies in achieving sustainable and inclusive participation around the Global Fund Processes. 
Our team actively engaged in panels during the conference and hosted a compelling side event. Through these spaces, we presented various evidence-based policy recommendations, experiences, and results from the ground, designed to bridge gaps within the existing Global Fund processes. We fervently advocated for approaches that foster true gender transformation in the Global Fund and the current GC7.
As part of our commitment to fostering gender equality, we hosted a captivating side event during the conference that delved into the Global Fund's 7th Replenishment outcomes and the vital role of effective advocacy. Titled "Engaging Young Women to Action," this event saw the dynamic participation of esteemed guests, including Kate Thompson from the Global Fund, Bruna Martínez from GNP+, and Maximina Jokonya from Her Voice Fund. Together, we explored the challenges and opportunities in the new Global Fund Granting Cycle and its Gender and Human Rights strategy. Our passionate advocates, Saro Imran and Priscilla Ama Abdo, and members of our Steering Group, Joyce Ouma and Maurine Murenga, made remarkable contributions, shedding light on women's challenges when participating in Country Coordinating Mechanisms.
In conclusion, our unwavering belief in the power of dialogue and knowledge-sharing with young women and advocates drives our commitment to fostering gender equality. By facilitating information exchange, we empower civil society and communities to articulate their demands more effectively, amplifying the call for gender equality. This, in turn, enhances their opportunities to secure crucial funding for research and projects that can shape transformative public health policies at the national and global levels. Furthermore, our efforts aim to foster connections among women on the ground, creating a vibrant network of like-minded advocates. 
In the Women Deliver UNFPA MNH / FP Pre-Conference, our Programme Lead, Brenda Formin, took the stage alongside esteemed experts to shed light on Cameroon's maternal health situation and how the deployed interventions (FP, safe abortion care, medical staff, etc.) were put to use and what needs to be done more, and what can other nations learn from this experience. Brenda emphasised that the 438 maternal deaths per 100,000 live births in Cameroon remain concerning. To enhance maternal health, the Cameroonian government should improve healthcare education, training, and research while prioritising prevention and treatment efforts. Equipping healthcare professionals with training and birth kits can save lives. Family planning access, antenatal care, maternity services, and skilled labour care must also improve.
Brenda also contributed to the Guttmacher Institute's panel on "Evidence in Action: Data-Driven Advocacy for Sexual & Reproductive Health" on July 18th. She discussed SRHR Financing and Advocacy, highlighting streamlined funding, enhanced accountability, and skill development within partner organisations. Brenda emphasised a decolonial approach and stressed involving youth, especially in tech-based solutions, national policies, and health response systems. Empowering young women through funding restructuring and innovative inclusion methods is crucial for comprehensive and culturally sensitive strategies.
Together, we build a robust and supportive structure in countries, empowering engagement with Global Fund National processes and paving the way for a more equitable and inclusive world. Join us on this transformative journey as we work hand in hand to champion gender equality and advance the well-being of women in their diversity.
Link of the side event post here
Watch and share W4GF's Women Deliver Conference 2023 video here