Why this case study?
This case study highlights lessons and recommendations from short-term technical assistance (TA) provided by Women4GlobalFund (W4GF) and the International Community of Women Living with HIV Eastern Africa (ICWEA).
This case study discusses short-term TA with women, including adolescent girls and young women, to enable them to articulate key priorities for inclusion in C19RM funding requests in four countries in 2021: Botswana, Cameroon, Tanzania and Zambia.
The full report available in Español / Français / English / Pусский
The Executive Summary only is available in Español / Français / English / Pусский
If you are short on time go straight to our advocacy brief linked to this work. This is available here
W4GF provided three days of virtual TA support in Cameroon and Zambia and ICWEA provided more in-depth and in-person TA (12 days per country) in Botswana and Tanzania. This support was funded by the Global Fund's Community, Rights and Gender Strategic Initiative (CRG SI).
The case study explores the TA provided and highlights key impacts, benefits, challenges and lessons learned. It also includes recommendations for the Global Fund, based on the research findings. The analysis and observations will contribute to a growing body of knowledge on how to best support women and other marginalised communities to engage with the Global Fund in their countries, including ensuring that their needs and priorities are recognised and met by the Country Coordinating Mechanism (CCM).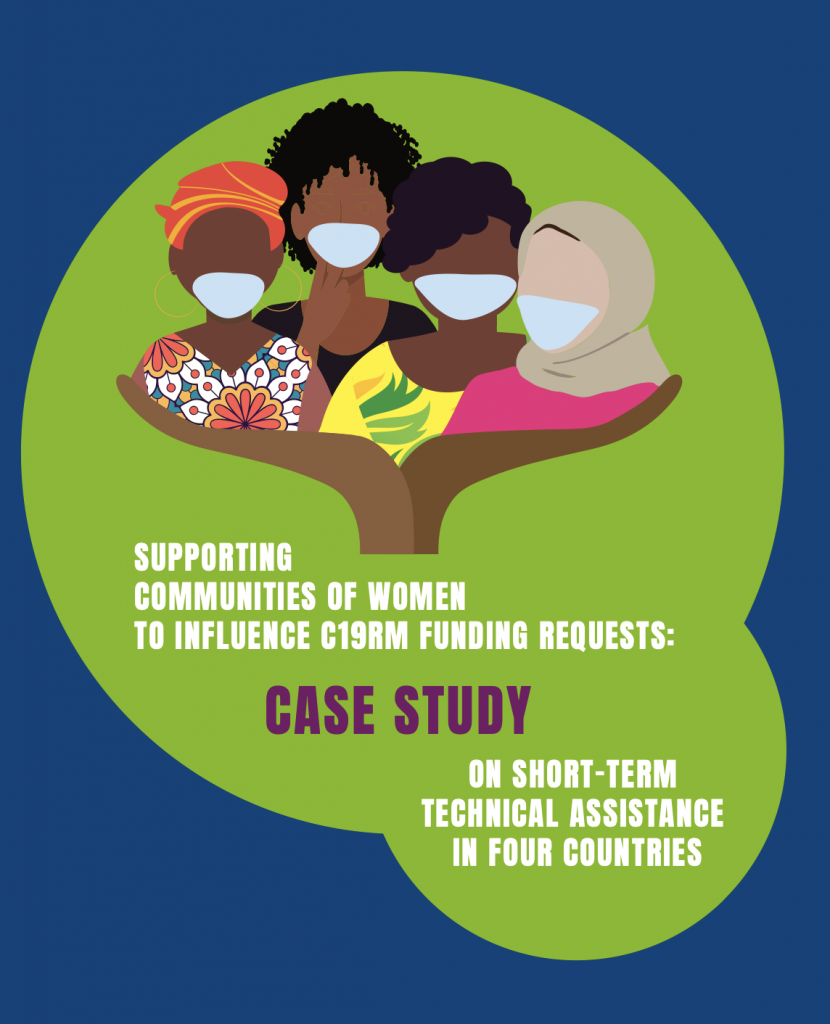 Key Recommendations
W4GF celebrates the Office of the Inspector General Report Audit of the COVID-19 Response Mechanism 2021 which highlights the Global Fund Secretariat's significant efforts to enhance the inclusiveness of the C19RM 2021 process. At the same time we call on different arms of the Global Fund to ensure that women's priorities are more extensively reflected in future funding requests and funded to an adequate degree.
We call on the C19RM Investment Committee to:
Allocate more time to the overall process of developing funding requests: The rapid and timebound nature of the short-term TA inevitably results in a process that cannot meet all demands or needs. More time in the overall process will allow TA to support the full engagement of communities, regardless of which window a country chooses to submit its C19RM funding request.
We call on the CCM Hub to:
Ensure that all final documents associated with the TA process are accessible to all who engaged. This is important for building and sustaining ownership, sharing of experiences across different contexts, and boosting ongoing interest and capacity among women and girls (including in terms of accountability for C19RM grant implementation). All countries submitting funding requests must be reminded that, at minimum, they should share their final proposals with communities, including women's advocates.
Explore ways to keep women informed and engaged. This meant that even after the Global Fund had formally approved grants to all countries and notified them of what they would receive, many of the women were not aware of whether their 'asks' had gotten into the funding requests or what the progress was on the overall process. They therefore were not able to hold CCMs and other local and national stakeholders accountable for taking their priorities and the identified needs of women and girls seriously.
We call on the Community, Rights and Gender SI to:
Develop clear yet detailed costing guidance specifically for communities that is publicly available and regularly updated. Among other key areas, this could include information and examples about how to cost community led monitoring activities and gender-responsive budgeting and costing.
Expand the scope and scale of the TA so that the engagement of women is stronger and continuous, including by having the TA process cover a country's entire funding proposal drafting process, and not just stop with the identification and submission of priorities.
Ensure a key component of all related TA is to produce summary documents by community representations in key local languages so that all communities are well informed and able to receive feedback on their engagement.
Invest in TA that enables women to engage throughout and beyond the funding request process, including implementation, review and monitoring; and as part of this create a mechanism to keep communities of women informed of what happened and how they might engage in the future.
We call on the Global Fund Secretariat to:
Invest in global women's networks that focus on and routinely discuss Global Fund issues and developments. A strong baseline of women's local capacity and interest in engaging with the Global Fund is essential. W4GF, ICWEA and similar groups continuously increase awareness and understanding of the Global Fund among women and girls in countries around the world. Helping to strengthen their ability to reach more women with vital information will help to make local women's work and engagement more effective during TA processes and more broadly in Global Fund activities in their countries.
---
On 2 March 2022, the Lancet published a paper – Quantifying the effects of the COVID-19 pandemic on gender equality on health, social, and economic indicators: a comprehensive review of data from March, 2020, to September, 2021 – "The most significant gender gaps identified in our study show intensified levels of pre-existing widespread inequalities between women and men during the COVID-19 pandemic. Political and social leaders should prioritise policies that enable and encourage women to participate in the labour force and continue their education, thereby equipping and enabling them with greater ability to overcome the barriers they face."